In the absence of the London Boat Show in January, the CA has taken the initiative to open its doors to CA members and non-members as well as to a number of high-profile marine companies to exhibit their products and services at CA House.
Our 'Open Weekend', focuses on all things boaty and is being hosted at CA House. Everyone is welcome to come along for an informative and fun day out.
We have also put together a packed schedule of specialist speakers on a fascinating range of cruising-related topics on both days and are delighted to confirm Tom Cunliffe as our Saturday evening guest speaker.
The daytime speaker line-up is detailed below. You can book for one or more 2-hour slots over the weekend and the schedule for Saturday will culminate in Tom Cunliffe's talk at 19:30 after which, at 20:30, a hot buffet supper will be available.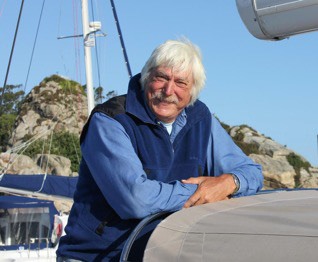 Date: Saturday 29 February and Sunday 1 March 2020
Time: Daytime events 10:00 - 18:00, evening talk (Saturday only) 19:30, buffet supper 20:30
Venue: CA House, Limehouse Basin (see 'Getting here', including details of parking and a road closure on Sunday, below)
Option 1: FREE admission to CA House & the Marine exhibitors 10:00 – 18:00
Pick one, or two consecutive, two-hour slots on Saturday or Sunday, between 10am and 6pm
Then select one or more optional 30-minute talks during your two-hour slot(s) (see schedule below)
You may book for yourself and a second person who can choose different slots and/or speakers
Time Slots:
10:00-12:00
12:00-14:00
14:00-16:00
16:00-18:00
Option 2: £22.50 pp for Tom Cunliffe's talk, "In the wake of heroes", and a buffet supper. Arrive by 7pm. Can be booked on its own or alongside Option 1 tickets.
Booking: This event is free to attend between 10:00 and 18:00 on both days, but booking is still essential to be guaranteed entry to CA House and to the various Open Weekend activities on either or both days. Everyone is invited and you can have a look round CA House, enjoy some interesting talks and get up close and personal with the CA and with some of the leading brands in the business. Book online here
Getting here: Details of getting to CA House by road, public transport, taxi and by sea, plus information on parking can be found here. On Sunday 1 March, there will be partial road closures for the Vitality Big Half Marathon affecting, but not preventing, access to CA House. Closures will be: Limehouse link 4am-12.30pm and Narrow Street 7am-12:30pm. Further details can be found on this information flyer.
This weekend gives visitors an exclusive opportunity to have one-to-one conversations with representatives from ASAP Supplies, Dolphin Sails, Gill, ICOM, Imray, British Waterways Limehouse Basin Marina, Navionics, Ocean Safety, Raymarine, and, of course, the CA, whose staff and speakers will be on hand to chat and answer any questions. There will be plenty of opportunity to socialise in our heated patio marquee where food and drinks will be available to purchase throughout the day.
Visitors can get exclusive discounts on a range of products and we are also giving 10% off the first year's membership if you join on the day and pay by Direct Debit, so spread the word and do invite your boating friends along.

Time Slot
Time of Talk
Speaker(s)
Title
Synopsis
10:00-12:00
(both days)
10:10-10:40
Judith Grimwade & Keith Pettican
Preparing for longer term Cruising
Making the necessary arrangements for leaving your home for several months. Looking at insurance, security, managing finances, communications while away etc. Suitable holiday insurance for 60+ days. Savings that can be made. etc.
10:50-11:20
James Littlewood
From Sail to Power
James Littlewood took the decision to sell the sailing yacht Paddington IV... and move on to a motor yacht, Paddington V. Here he describes how he and Carol tackled the change.
11:30-12:00
Duncan Wells
Short Handed Man Overboard Retrieval
Duncan will be to demonstrating the following: 6:1 tackle, Rescue Sling etc and things that inflate and go whoosh like the Line Mate, or beep and flash like the Ocean Signal MOB1, all artefacts that make the point and provide the answer to short-handed man overboard retrieval.
12:00-14:00
(both days)
12:10-12:40
Dr Gilbert Park
Medical Mishaps
It is Lee Childs' character Jack Ryan who often says "Plan for the worst, hope for the best". Having experienced my share of medical mishaps at sea and my lifelong experience as an Intensive Care Physician I now feel I can talk about planning for the worst in what I hope the audience will find both amusing and informative, as well as thought provoking talk.
12:50-13:20
Bob Garrett
Considerations for Crossing the Channel
Crossing the English Channel for the first time can be a daunting prospect: out of sight of land, big ships, big tides, and foreign marina procedures. This presentation will set out the things you need to consider including routes, navigation, tides, boat and equipment, weather, crew, victuals, paperwork, emergencies and your actual arrival.
13:30-14:00
Julian Dussek
Cruising the French Inland Waterways
In 2006 Julian and Vanessa took their Southerly 115 through the French inland waterways to the Mediterranean, a retirement dream, and returned a couple of years ago, a total of nearly 2,000 miles embracing small rivers and massive ones, rural locks and giant ones, tiny villages and the major cities Paris and Lyons. No talk about France is complete without mentioning eating and drinking, but he will also describe the practicalities of such a trip.
14:00-16:00
(both days)
14:10-14:40
James Littlewood
Mecklenburg lakes of northern Germany
When James Littlewood explored the Mecklenburg lakes of northern Germany in 2015, his guidebook was a volume first published in 1891. Here he compares his voyage in Paddington V with H.M. Doughty's voyage in his Norfolk wherry Gypsy.
14:50-15:20
Caroline Milmo
Sailing Indonesia - another great sailing experience through the CA Crewing Service
Sailing adventure found through the CA Crewing Service
15:30-16:00
Keith Pettican
An introduction to sailing in the Mediterranean
How sailing and boat handling, cruising, costs and other aspects of sailing in the Med differ from sailing in UK waters.
16:00-18:00
(both days)
16:10-16:40
Dr Gilbert Park
Communication, past present and future
Good communication improves safety, reduces stress and anxiety and generally makes being on the water a more enjoyable experience for the skipper and the crew. In this talk communication skills for sailors will focus mostly on those needed 'in boat' rather than those 'outside the boat'. There will be a small part on the new technologies to deal with emergencies.
16:50-17:20
Jonathan Lloyd
Circumnavigation - Preparation and Planning
Introduction covering the motivation for undertaking a circumnavigation. Preparation and Planning covering the acquisition of a suitable yacht and equipping it for a circumnavigation, personal training, domestic preparations for a long term absence. Brief overview of the circumnavigation by calendar year. Short description of the principal misadventures - Major rigging failure crossing from the Galapagos to the Marquesas - Grounding on a reef in Fiji - Lightning strike on passage from the Azores back to the UK.
17:30-18:00
Judith Grimwade
Cruising the Biscay Coast of France
The Bay of Biscay is regarded by some as a sea area to be avoided. If this is the case, why do so many boaters make this their preferred cruising ground? This presentation will provide some of the answers.
Evening Session
(Saturday only)
19:00
Arrive
 
 
19:30
Tom Cunliffe
In the Wake of Heroes
50 mins, followed by questions. In this lecture, I open the porthole on a cast of maritime characters from my book of the same name including the famous to the obscure. I also talk about my own genesis from a knockabout sailor to a writer and what it's like to face a blank page.
20:30
Buffet