Our much-anticipated virtual Promo Week took off with a spring in its step on Monday 22 March and is deemed to have delivered successfully on all fronts. We gained new members, engaged with cruising fanatics on Live Chat, and delivered some excellent discounts for members.
We're delighted to have signed up 77 new members and want to take this opportunity to extend a warm welcome to all. We expect this figure to rise as we have since extended our discount offer until Easter Sunday. That gives you 25% off your first year's membership with no joining fee when paying by Direct Debit - use the code SPW21 when you join online.
What did you think of the week?
The variety of engaging content throughout the week has clearly appealed to members and non-members alike and has especially helped to bring the CA to people's attention. We would like to thank everyone involved in making the week such a resounding success. We urge you to feedback your views on how YOU think it went. Please use the feedback form to let us know how you think we might improve our offering next time.
Big numbers
As a virtual event, it was important to attract people to the website in the first instance and social media also played its part in spreading the word throughout March, as we previewed Spring Promo Week and all the opportunities on offer.
We opened up registration to the three webinars to anyone interested in attending and recorded really good audience numbers. If you missed out, you will shortly be able to catch up on two of the webinars, on the members Videos & podcasts page or, for non-members, on the public Videos & Podcasts page. Thank you to all our presenters: Bob Garrett, Jonathan & Anne Lloyd and Rick Ballard. You can also read the text slides and the Q&A for the Lloyds' talk on their five-year circumnavigation.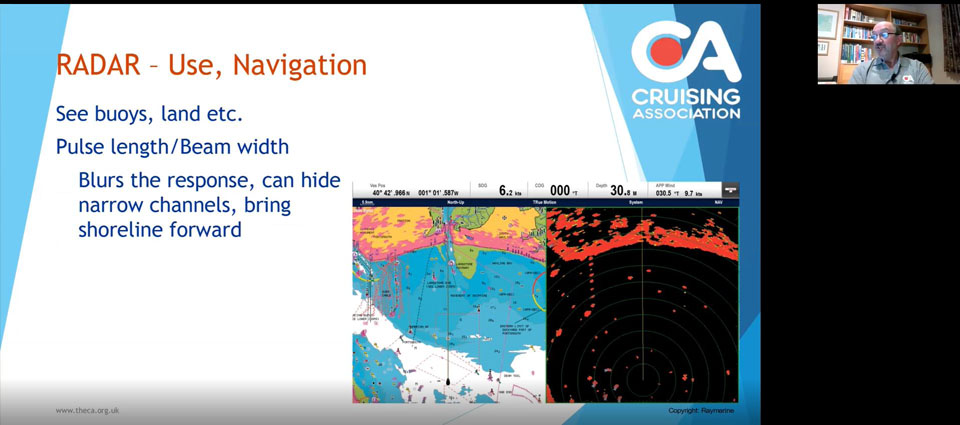 A screen shot of the successful AIS and Radar webinar presented by Bob Garrett
Discounts are always popular, and we were fortunate to be supported by an excellent and generous line-up of top marine brands during the week. We extend our very grateful thanks to Arthur Beale, ASAP Supplies, Gill, GRPro-Clean, Halcyon Yachts, Halyard & Wave International, Haven Knox-Johnston, Icom, Imray, Jeckells the Sailmakers, Navionics, Ocean Safety, Reeds/Adlard Coles and Ship Shape Bedding.
…and the winners are:
The winner of our Spring Promo Week Prize Draw Bundle for £160 worth of nautical goodies was a non-member.
We also drew the winner of the Winter Big Prize Draw for Jeckells the Sailmakers Cruising Chute. The winner, Stephen Tedbury told us: "Hearty thanks to Jeckells for a most welcome birthday present! I have been cruising since 1972, so for nearly 50 years, since my first trip with my future wife and a university friend from Fowey to Guernsey. That yacht was pretty basic – we dropped corks over the side and timed them, so we could calculate our speed and distance run, but we were hooked. Since then, we have used our annual holidays to sail away somewhere every year from our base in St Mawes, mainly to SW Ireland and southern Brittany, but with two longer forays to Scotland, one to northern Spain, three to Suffolk and the Netherlands, plus one long delivery trip from Turkey to Cornwall.
"As for so many people, last year was different, with just some short local trips with family and friends, but we are looking forward to setting off again this summer if we possibly can. In 20 years, we have had only one really new sail, so Jeckells' prize will be extremely welcome!"
The winner of our special Refer a Friend prize of an Icom VHF Radio was Andrew Thomas who recommended his brother to join the CA.
Our Big Prize Summer Draw with GRPro-Clean has now been launched and members can find all the details on how to be in with a chance of winning this prize valued at over £2,000 and a link to the entry form on the members' Prize Draws page.
31 March 2021