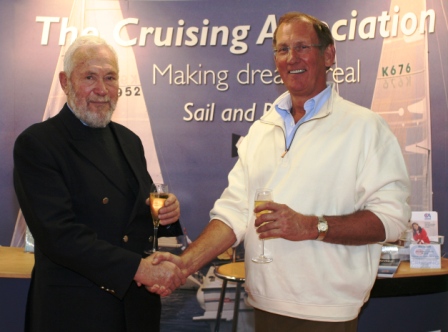 On the first day of the London Boat Show the Cruising Association's Patron, Sir Robin Knox-Johnston, welcomed Eric Roberts as the 4,000th member of the Association.
Eric, 57, lives in Shenfield, Essex, and was introduced to the Cruising Association by his sister Eileen and her husband Chris Wintrell who bought Michael Buerk's boat 'Airwaves of London'. "They are quite active CA members and recommended it to me enthusiastically" said Eric. Although Eric has sailed since the age of eight, he is awaiting delivery of his first boat, a Beneteau Oceanis 45, which is due to be launched in March. He plans to sail the new yacht through the Mediterranean from France to Gocek in Turkey. After a year or two, Eric's dream, once he has built up enough experience, is to sail to the Caribbean.
What does Eric hope to gain from membership of the CA? First of all, he points out, his subscription has already more than paid for itself, earning him 5% discount on his annual berth at Gocek. He plans to use the members' website for passage planning information and also has ideas about using the Association's Crewing Service to help him look for crew. "And it will be great to see the burgee on other boats and go over and say hello".
Stuart Bradley, CA President, commented: "Welcoming Eric as the 4000th member is the climax of a very successful 12 months during which the Association increased its membership by a record 14%. We're seeing an increase in the number of UK-based sailors who keep their boats overseas, and also in members who don't have a boat and want to increase their experience by crewing for others."
"For many years the CA has been the cruising world's best kept secret. More people are now realising that we're like a world-wide local yacht club. Through electronic communication, our ever-expanding website, special interest Sections, and a network of Local Representatives in the popular cruising areas of the world, we can provide information and encouragement to cruising sailors wherever they live or cruise. We help to make members' dreams real."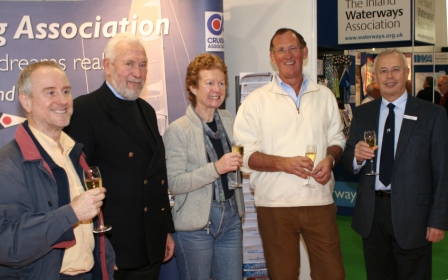 The 4,000th CA Member, Eric Roberts, is welcomed by fellow members (l to r) Paul Chandler, Patron Sir Robin Knox-Johnston, Rachel Chandler, and President Stuart Bradley