At this year's CA Hanson Lecture on March 25, Mike Golding OBE will tell the inside story of the rescue of Alex Thomson during the Around Alone Race in 2006, a particularly difficult and dangerous situation which took place in the eye of a major storm, 1,000 miles south of Cape Town.
Mike's presentation will include a short Channel 4-produced film showing how things unfolded both on the shore as well as at sea and some fascinating, unseen, footage shot by Alex and Mike himself as the rescue unfolded.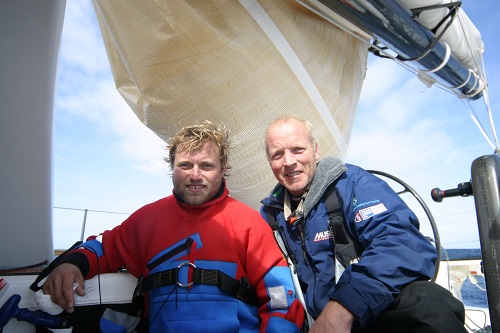 Mike's impressive sailing CV includes:
Round the World race winner, multiple world champion, global record breaker.
The first person to race around the world in both east and west-about directions.
Responsible for numerous innovative, enduring and successful sailing sponsorships.
Pro Sailor/Ocean advocate.
The evening on Wednesday March 25 at CA House includes presentation of the 2019 CA Log and Vlog awards, judged by yachting journalist Mark Jardine.
Tickets are £18, include a buffet supper and must be booked in advance. [Book Events Online here]
The Bar will be open from 5:30pm. The Hanson Lecture begins at 7:00pm.
Following the lecture, prizes will be presented to this year's log competition winners. There is no interval. Supper from around 9:00pm.
12 February 2020