Anchorages of the Channel Islands - Alderney
Tuesday 25th January 2022 at 7pm
A CA webinar from the Channel Section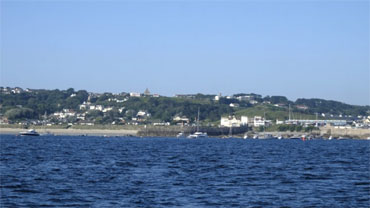 The Channel Islands are each great destinations as well as useful passage ports. This seminar will focus on the anchorages of Alderney and will also refer to moorings at Braye Harbour. It will describe each location as well as talk about the details of anchoring (or berthing there) and why you might choose to stop there including attractions ashore for that location and generally for the island. Being presented by local expert, Annabel Finding, you can be sure of some really useful information for your future cruising plans.
Annabel first sailed to Alderney on her fathers Westerly 22 in 1969, although they were actually heading for Cherbourg! She has spent much of her life afloat with family and friends and has been a member of the Royal Cruising Club for nearly 30 years. She is editor of the RCC Pilotage Foundation Pilot Book for the Cherbourg Peninsula, Channel Islands and Northern Brittany. Living on Alderney with her family since 2004 she has variously worked as a teacher, taxi driver and tour guide and has a wealth of local knowledge both on and off the water which she is always happy to share with visitors. She is a Jurat of the Court of Alderney and an Authorised Civil Celebrant specialising in seaside ceremonies and nautical nuptials, useful if you want to get married aboard during your visit! During the summer months she enjoys working on the Braye Harbour Water Taxi welcoming visitors and catching up with old sailing friends.
It will last approximately 40 minutes and conclude with a Q&A session.
It is open to members, including Crewing Service members, only. You will need to be logged in to see the link below to register to join.
Register now using the following link:
https://us06web.zoom.us/webinar/register/WN_4DTxaVRBTayFdgDld9hs2w